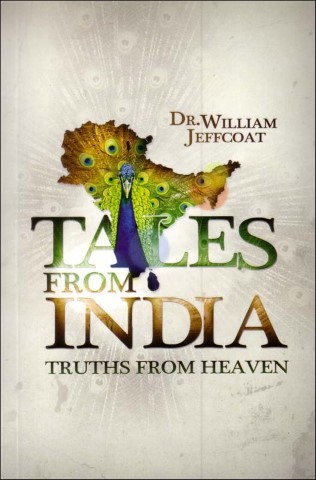 Tales From India, Truths From Heaven is filled with stories that have been gleaned from the history and culture of India.  Each story, being accompanied by truths from Scripture, becomes a parable.  One after another, the parables share with the reader the greatest story of all.
This book was foremost written with the intent of sharing the Gospel with someone who is of Indian origin or ethnicity.  It endeavors to speak with a familiar voice from the stories of their native land and share salvation's truth with an audience who perhaps has never heard the name of Jesus Christ.

Review From The Sword Of The Lord:
Dr. William Jeffcoat has gathered dozens of diverse short stories from India. These come from the varied world of nature found in that large land, from the ancient and more recent history of one of the world's oldest civilations, and from fables passed down through the generations in the families found there.
There is something here to interest any reader. Thought-provoking challenges are mixed with humor, and human interest stories will stir the heart.
Above all, each story illustrates a biblical truth in a forceful way. The way of salvation is shown beginning with the most basic truths that God is the Creator and that sin hinders His desire to communicate with His creation and fellowship with those He loves. The necessity of Jesus' sacrifice is made plain, and the reader is invited to receive the gift purchased by that sacrifice.
This is a treasury of illustrations to use in witnessing and a powerful witness in itself when given to unbelieving friends.
Tales From India, Truths From Heaven is also available through the following:
All images are linked to the appropriate websites and will take you where you need to go.