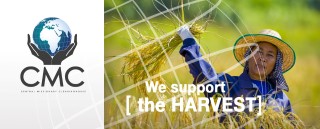 Our funding and support is channeled through the Central Missionary Clearinghouse in Houston, Texas.  This highly respected agency is not a mission board but rather a "clearinghouse" which serves as a conduit for financial gifts on behalf of the missionary.
All checks sent to them should be made payable to CMC but include a notation that specifically indicates the funds are being sent for our ministry.  We are listed with them as William Jeffcoat - MAPS.  Our field is indicated as being Southeast Asia.  The specific account is JEFW.
We are grateful for their services on our behalf.
Their address and contact information is as follows:
CENTRAL MISSIONARY CLEARINGHOUSE
P.O. Box 219228
Houston, Texas 77218-9228
http://cmcmissions.org/
1-800-262-7729 (1-800-CMC-PRAY)
Alternate Office Number:  281-599-7411